2017 ︎︎︎ Request Line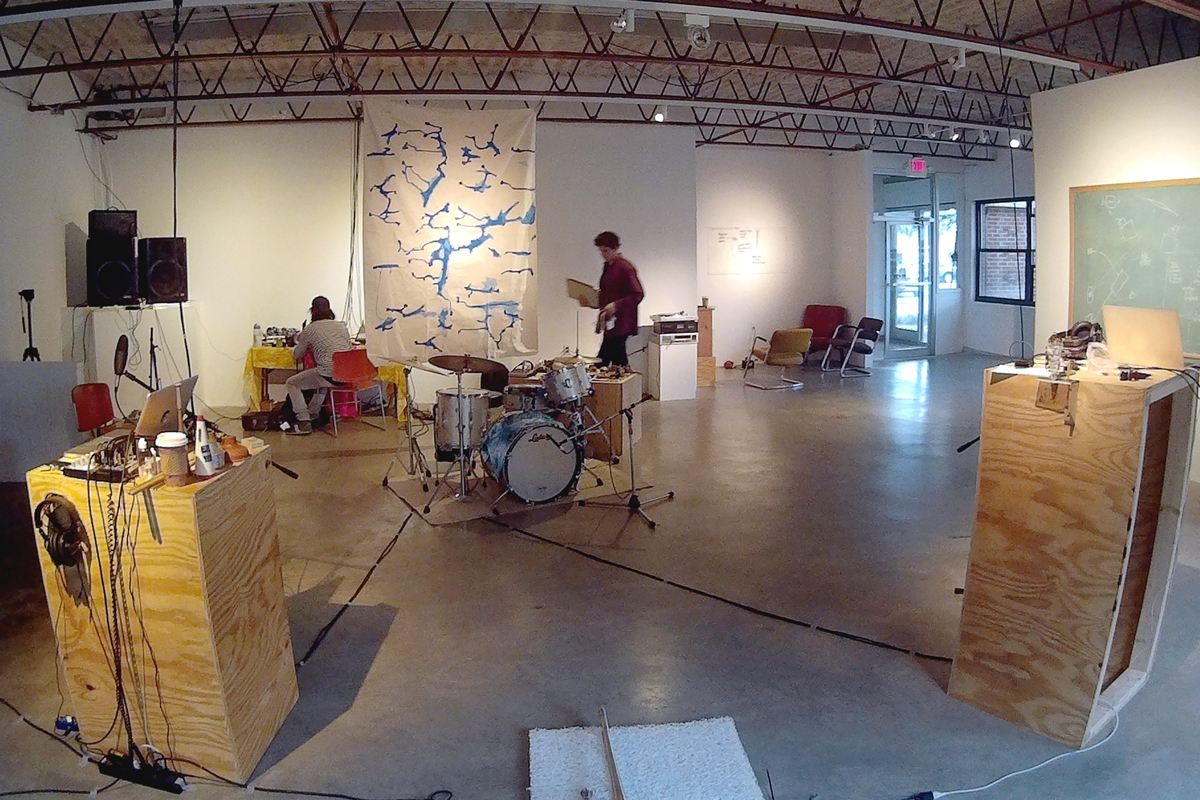 Request Line
was an extension of the work we had begun earlier in 2017 at Border Patrol, Maine.Could we take our permeable system that we had birthed during
Invitation
and expand it into a truly immersive musical experience? Could we add projections and drones and big drums to the mix? Could we fold in even more? These were our dreams for
Request Line
, an exhibition at BUOY gallery.
We attempted to install our entire music practice in a place, and see how it could respond to the myriad of interactions that constituted that place's daily life. And, at the same time, we wanted to continue to open gateways to totally other spaces and times.
We were in residence at BUOY for a week, during which we set up multimedia performance stations, ate lobster, developed daily routines, gave Tarot readings, and tried to engage the town in visiting the exhibit or tuning in to our pirate radio broadcast on 87.9FM. BUOY occupies half a former post office, and shares a wall with The Black Birch, a busy and wonderful restaurant, and there is constant traffic between gallery and restaurant. So the album emerges from a space defined by cycles of giving and receiving, receiving and responding, consuming and producing, opening and closing.
Al, who founded and curates BUOY, also bartends at the Black Birch, and was a model of generosity to us– whether
he was providing the vinyl record collection that we sampled throughout the week, pulling his own favorite tunes for us to enjoy, mixing drinks, finding us a place to stay, joining us on guitar, telling stories, and inviting participants, players, and friends to the installation. All these acts of giving helped us build a network of hospitality and reciprocity inside the gallery and the town. One night, we laid him down in the middle of the room, covered him with a safety blanket, and gave him a sound bath. You can hear some of that on the Request Line album. (We also gave a birthday sound bath to a salty falcon rehabilitator!)
Al also connected us to Brett– a friend of his who worked one block up from BUOY. He joined us on flugelhorn for a few performances, and brought magic to the room.
In the midst of an improvisation, someone sampled a track by Richie Havens: "Follow." Afterwards, a couple in the audience told us that it was their wedding song. The next day, their daughter brought over her guitar and played us a few tunes, to which we spontaneously provided accompaniment.
One night over dinner, a stranger thanked us for the previous night's performance. They had listened to it on the radio, on their houseboat, over a glass of champagne.
Rachel, who runs a textile business out of Buoy's office, decked us out in brightly patterned dresses and shirts from her collection, adorning us in archetypal costumes that added a sense of ceremony to the performances.
In the middle of the week, a Black Lives Matter protest swept down main street. The move was to join- we brought the horn section and a cowbell, joined up with a fiddler, and formed an impromptu marching band.
All these little moments and coincidences and shared spaces felt possible because we considered everything and anyone a potential collaborator--not just fellow musicians, but the record collection, the restaurant, the news of the day, the weather. It's not mystical (it is), it's just the payoff when you pay close attention to what's happening around you. These are lessons from improvisation and listening, practiced in a musical setting, but applied to all manner of interaction.